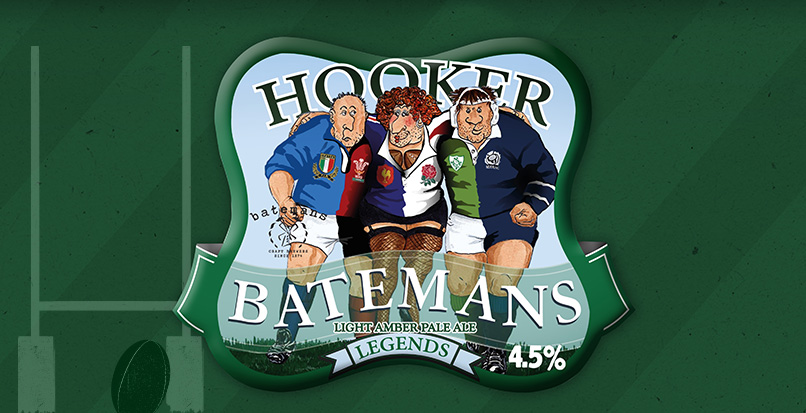 Hooker our number one for February
Why Batemans Hooker should be in your line up for the Six Nations
With the Six Nations just around the corner, all the stats all show that now is the time to focus on your beer offer.  So, what better time to explore the delights of Batemans 'Hooker' … A light amber beer created in celebration of Rugby.  Our February winner is brewed using mature crystallised malts followed by Styrian & Challenger hops, to give a fresh crispness, a citrus fruit overtone and a 'dry hop' aroma.
Call our friendly Telesales Team on 01754 881137
Why you should focus on rugby in February
Various bits of research down the years have shown the potential of the rugby occasion and the purchasing power of the rugby crowd. The opportunities available to the canny (that should really be casky, shouldn't it) publican should not be underestimated.
February is a great time to double down on your Cellar Management
Six Nations weekends often account for some of the busiest trading weekends in the sporting calendar. This means that as publicans, if there was ever a time to focus on your cellar and quality management, then February is that time. If you have never done one, or if you fancy a refresher why not consider taking one of our Cellar Management Courses.
Back this training up by stocking the perfect pint of Hooker and you'll be delivering a timely, relevant and above all tasty customer experience that's more likely to encourage repeat visits.
Get your beer right and expect demand to rise
Most analysts say that events like the Autumn Internationals and Six Nations drive impressive amounts of extra wet trade.  A stat we saw from the recent rugby World Cup saw stadium beer sales during rugby games outstripping comparative sales during football games by a factor of between six and ten.  Pretty much every bit of pub-based data we saw shows double digit uplifts of beer sales on rugby weekends vs non rugby weekends.
Rugby attracts a different crowd that you might not see every week, they are a group that come in greater numbers and who stay for longer than other sports fans.  February is your opportunity to boost your annual beer sales.
So, make sure you pre promote your in-pub plans and get a relevant beer to show your commitment to the occasion.
Make your Six Nations beer offer more relevant
With all that extra potential to go at, it stands to reason that stocking a real ale product (Like Batemans Hooker – that's not only a great beer but that also has relevance to the occasion) is likely to help you capitalise on the Six Nations opportunity.
It's all available now
Hooker is available to order now, and our Cellar Management Course is running just in time for February.  Batemans area sales managers can call on you in January, if you need to see some numbers and our friendly telesales team are always available to take your orders.
There really is no excuse not to kick this one right between the posts.
Call our friendly Telesales Team on 01754 881137